Black Lion Inn also stood in South Street but was converted to a private residence in 1721. The picture shows the pub with the beer carts outside, shot looking north up South St.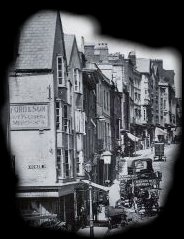 The picture also possibly shows the location of Ford and Co. who were Carriers on the corner of Coombe Street.
White (1850) however lists the place as an Inn with John Stuckes resident at 67 South Street.
In 1852, Slater lists The Black Lions at 67 South Street. It would appear that the Black Lion and the Black Lions were the same inn.
The Black Lyon also appears on Benjamin Donn's map of 1765.
It was the scene of a terrible fire in 1873 (EFP 24th September 1873) in which 3 people perished and had to be rebuilt, possibly changing it's name then though Donn's map (1765) disputes this. However maps take a long time to prepare and print, especially back then.
Black Lions Inn is listed by Pigot (1823) with Robert Kingwell resident, it was at 78 South Street and issued checks between 1852 and 1876. Richard Fletcher was resident.
Further checks were issued during the residency of John Tidberough (1902-1912).
The pub was an important starting and end point for the Carriers to various places locally and as far afield as Bristol.
The inn was at one time the residence of the Carew Family (after whom it gets its name), their arms being three lions passant sable, (ExCoin).
The pub is not known after 1925.
Stuart Callon Copyright ©2002