The City Arms
The City Arms was located in Stepcote Hill and does appear on the O.S. map. It also gets a mention by Kelly (1897), 23 Stepcote Hill with Mrs Emily Jennings resident (Kelly), however the first directory lising is in 1859, John Philips resident.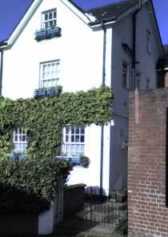 5 Stepcote Hill, former City Arms plot
By comparing this picture with the picture below you'll see how the street was alot narrower in it's upper reaches than today.
The inn is also mentioned by the EFP 12th May 1859 in relation to the daughter of the landlord passing away.


The City Arms 1928
Stuart Callon Copyright ©2002