The Duke Of Wellington is mentioned by Pigot (1823) as being located in the Westquater, William Edwards was resident. The EFP published a "for sale" notice in 1823 (28th August).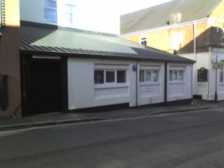 Building replaced. Seen today in King Street
By 1876, the Wellington Inn is seen on King Street (OS Map) at No.6. 1861 according to the EFP (see below).
The Marquis Of Wellington is mentioned by the Exeter Flying Post as being located in the Westquarter in 1815 (St Marys Steps, 19th January 1815). William Strong (landlord) was convicted of illegal gambling at his establishement.
There is also a listing by Pigot (1830), Elizabeth Edwards resident. No address given.
It is therefore faily safe to say that Elizabeth Edwards was the wife of William Edwards and therefore, the pubs were the very same.
According to the EFP, the Exeter Fire Brigade attended a fire Wellington Inn on 18th Nov 1902. the fire had been caused by hot coals being placed under the stairs. Either a form of central heating or a form of gross stupidity. The cost of the Brigade's attendace was 1.95 GBP.
The pub at the time of the fire was owned by Elizabeth and William Raddon (a coal mechant), they lived next door but had run the pub for several years before their tennant, a RJ Pearce took over. I don't suppose he lasted much longer.
The Wellington Inn also appears in the EFP upon the deaths of the wives of two the two landlords on 17th April 1861 and 17th May 1876.
Stuart Callon Copyright ©2005