The Firemans Arms first listed in Preston Street by Pigot (1844) who also lists William Mitchel as resident. It also appears on the O.S map of 1876.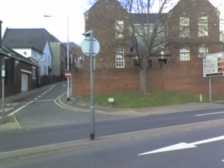 Location would have been on the present day pavement.
Pring Mentions that the pub was originally named the Duke Of Clarence, a pub named by Pigot (1830). The Duke Of Clarence was featured in a "to let" notice in the Exeter Flying Post on 18th September 1829 and also when S. Hexter was fined for keeping a disorderly house on 10th February 1842. The name change took place between 1842 and 1844.
Interestingly there is a mention in Besley's PO directory (1895) listing Frank Shooter as resident.
Frank Shooter was a famous Exeter swimmer and lifeguard up at the Head Weir bathing area in Bonhay Road where he worked for 37 years. He was awarded bronze and silver medals for his lifesaving by the Royal Humane Society and during his career he saved over 200 people and taught many to swim. Shooter died in 1917.
It would appear that the Fireman's Arms last resident was indeed Shooter, there are no listings after 1897.
The EFP printed a "to let" notice for the Fireman's Arms on 5th May 1876 and also note that an inquest was held there on 25th December 1856....Christmas Day!
Stuart Callon Copyright ©2002