The King Alfred was located in Fore Street according to Pigot (1844), White (1852) and Slater (1852). Does not appear on the 1876 O.S. map. The resident was Jacob Labdon on all three occasions at 148, 151, 150 Fore Street respectively. No further listings.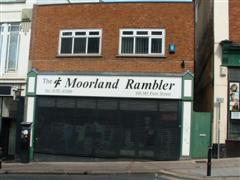 The site today is occupied by Moorland Rambler, obviously a new build.
The inn was mentioned by James Cossins as existing around 1827, on the corner of Friernhay Street, however the street numbering would suggest it was a little further down Fore Street.
In 1834, the landlord was accused and fined for selling tobacco products without a license according to the EFP.
The EFP reported a house fire at the inn on 10th February 1842, F.Wills was resident.
An EFP advert on 20th July 1842 mentions a sale of the publicans stock. Beer, spirits, store casks, copper boiler, brewing utensils and a "four-pull beer engine". It is likely that this marks the point of sale to Jacob Labdon.
Stuart Callon Copyright ©2002