St Olave's Hotel is located in Mary Archers Street and is an attractive Grade II listed Georgian mansion originally built in 1827 by the merchant James Golsworthy. It has been restored to reflect the classic simplicity and character of the Georgian era.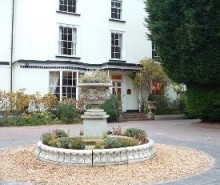 The building stands between Mary Archers Street and Mint Lane facing the restored refectory of St Nicholas' priory. The house was originally "Priory House". Construction started in 1827 within the grounds of the Priory. James Golsworthy was the manager and owner of Exeter's waterworks.
Two inscribed stones relate the history of Exeter's water supply. There is a stone inside the garden wall (backing onto Mint Lane) which was relocated from the Waterworks at Engine Bridge in Exe Street.
This waterwork was contrived by Amb. Crowley and Dan Dannell
A.D. 1694 improved and rebuilt by James Golsworthy A.D 1811
The outside wall of the Hotel (in Mary Archers Street) has been rebuilt retaining Golsworthy's stone which marks a public Conduit. This brought water from the Longbroook for his household and fountain.
The water brought here and this conduit erected for public use at sole expense of James Golsworthy with the consent of the Mayor and Council 1839.
By 1982, the rectory was a listed building but derelict. It was bought at auction by Donald Clarke. He began the transformation and restoration to what we see today. He retained the outer walls (around the back) and staircase, but replaced interior walls and ceilings being true to the Georgian Style throughout.
The place opened in June 1984 as a 17 bed Hotel.