The White Ball is shown on map (1876, see below) and is mentioned by the EFP on 30th April 1835 when the wife of the landlord, a William Tozer died.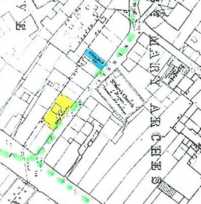 Golden Ball in Yellow, White Ball in Blue.
The pub was 4 doors north of the Golden Ball roughly in the Middle of St Olaves Close, as seen on the road layout today (revised 2008).
The inn was the subject of "for sale" notices in the Exeter Flying Post in 1844 and 1869.
Mary Archers street was once narrow and cobbled as shown in an Etching by Miss Hayman (1927), and appears to have been widened during a post war scheme. The White ball would have been demolished to create St olaves Close. The map shows that St Olaves Court existed prior to this.
Stuart Callon Copyright ©2002-2008